Le Pin




On a recent visit to Bordeaux I went through Pomerol to see who had started harvesting, it was the 12th of September (2011) so about time for the merlot to come in but this year the growing season had been very advanced, up to a month ahead of usual so it was interesting too see what stage the winemakers were at.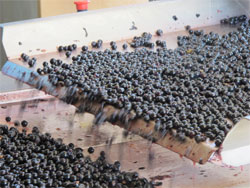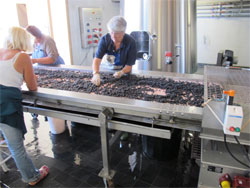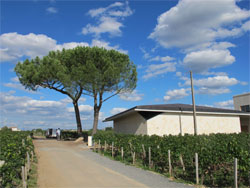 Stopping by at Le Pin to see the progress on the brand new barrel chai and winery I was lucky and found them bringing in the grapes. This 2ha property will probably not be picking for any longer than just one day so it was good timing.
The grapes were arriving at the brand-new, stylish and modern limestone building that replaces the ugly (but iconic) grey concrete farmhouse that was the original 'château'. The stainless steel fermentation tanks had literally just been delivered a few days earlier and the driveway was still far from complete.
Le Pin (named after the pine tree by the property) was first made back in 1979 when Jacques, whose family own neighboring property Vieux Château Certan, purchased the property and due to its size virtually became a one-man operation with the wines handcrafted beneath the house in the garage, coining the phrase garagiste. The blend is 92% merlot and 8% cabernet franc of 32 year old vines producing 600-700 cases per year.
It was good to see the owners Jacques and Fiona Thienpont there, being very hands on, sorting grapes and organizing the pickers. I tried not to stay for long as they were busy but they very kindly told me to look around.