Testimonials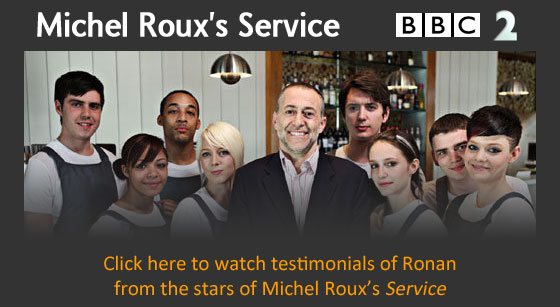 "
Ronan is an excellent organiser and mentor and has one of the best wine knowledge in UK.
Isa Bal MS, Head Sommelier, The Fat Duck
"
"
Ronan is highly respected and at the very top of his profession as a Master Sommelier and wine buyer. He has huge knowledge that he both passes on to his own team and enthusiastically shares with wine enthusiasts generally.
Robert Wheatcroft, Sales Director, Vine Trail Ltd
"
"
Having worked with Ronan for over 10 years i have nothing but admiration for his drive and energy and the way he embraces new idea's to improve not only himself but the business' he works for. He is always entirely professional, generous with both his time and knowledge and a true showcase of leading by example. Ronan's knowledge of not only wine, but every aspect of the hospitality industry is impressive and he is always, it appears, a step ahead when embracing innovation to deliver a better result.
Phil Weeks, Sales Director, John Armit Wines
"
"
Ronan is a very valuable member of the Master Sommelier Organisation.
His knowledge and passion for wine is frequently passed on to candidates at all levels of our education programmes.
He is an accomplished lecturer, and has a way of putting his subject matter over to candidates in a manner which promotes the learning process. Candidates respond positively to his approach and up to date knowledge of the subject.
Ronan's skills also extend to his practical work in the restaurant where he demonstrates benchmark standards.
His ability to taste and analyse wine has been proved with his success in gaining the Master Sommelier Award.
Bryan Dawes, Education chair, Court of Master Sommeliers
"